What are the common symptoms of a dysfunctional thyroid?
The signs and symptoms of hypothyroidism vary, depending on the severity of the hormone deficiency. Problems tend to develop slowly, often over a number of years.
Firstly, you may barely notice the symptoms of hypothyroidism, such as fatigue and weight gain. Or you may simply attribute them to getting older. But as your metabolism continues to slow, you may develop more-obvious problems.
Hypothyroidism signs and symptoms may include:
Fatigue
Increased sensitivity to cold
Constipation
Dry skin
Weight gain
Puffy face
Hoarseness
Muscle weakness
Elevated blood cholesterol level
Muscle aches, tenderness and stiffness
Pain, stiffness or swelling in your joints
Heavier than normal or irregular menstrual periods
Thinning hair
Slowed heart rate
Depression
Impaired memory
Enlarged thyroid gland (goitre)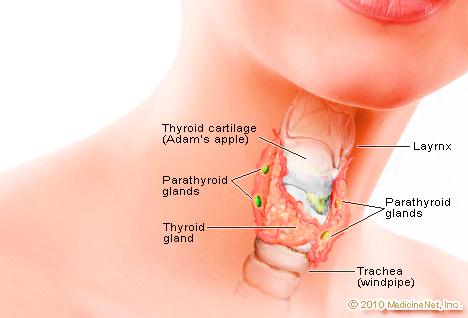 What Is Thyroiditis?
Inflammation of the Thyroid Gland
Thyroid Conditions Related to Thyroiditis
Hypothyroidism; Hyperthyroidism; De Quervain's Thyroiditis
De Quervain's thyroiditis (also called subacute or granulomatous thyroiditis) was first described in 1904 and is much less common than Hashimoto's thyroiditis. The thyroid gland generally swells rapidly and is very painful and tender.
Thyroiditis
An inflamed thyroid may occur in response to a viral infection (viral thyroiditis) or a bacterial infection (bacterial thyroiditis), following radiation, or in response to certain medications.
Acute Thyroiditis
To date, this condition is underreported but is estimated to occur quite commonly, particularly following surgery in the neck.
Silent Thyroiditis
Silent thyroiditis is the third and least common type of thyroiditis. It was not recognized until the 1970s, although it probably existed and was treated as Graves' disease before that.
This type of thyroiditis resembles a combination of Hashimoto's thyroiditis and De Quervain's thyroiditis.
Hashimoto's Thyroiditis
Hashimoto's thyroiditis, also called autoimmune or chronic lymphocytic thyroiditis, is the most common type of thyroiditis. It is named after the Japanese physician, Hakaru Hashimoto, who first described it in 1912.
Hashimoto's thyroiditis is the most common cause of hypothyroidism and is commonly described as a condition characterised by the immune system causing inflammation and destruction of the thyroid gland, by dysregulation of TH1/TH2 T cells, Treg and Th17 lymphocytes, as well as B lymphocytes and APCs, especially dendritic cells (DCs).(1)
GRAVE'S DISEASE
Grave's disease is the most common cause of hyperthyroidism and is defined as an anti-body medicated autoimmune process that affects the thyroid gland and the extra-thyroid tissues in in approximately 90% of cases.
It is caused by circulating antibodies that mimic the action of the thyroid stimulating hormone (TSH), binds to the receptor, (TSHR) and results in increased synthesis and release of thyroid hormones, along with hypertrophy of thyroid follicular cells which results in goitre. (1)
Symptoms of Graves' disease include:
Bulging eyes (only in Graves' disease)
Thickening and reddening of the skin, especially on the shins and upper feet (only in Graves' disease)
Irritability or nervousness.
Tiredness or muscle weakness.
Heat sensitivity.
Trouble sleeping.
Shaky hands.
Rapid and irregular heartbeat
Diarrhoea
Weight loss without dieting
Goitre, which is an enlarged thyroid that can cause the neck to look swollen
What do the thyroid antibodies tell us?
Thyroperoxidase antibodies (TPOAb)

Ab against a MAJOR enzyme in thyroid hormone production

Signifies autoimmunity

Often raised in T1DM, RA, pernicious anaemia

The higher the level the more likely it is a bona fide autoimmune thyroid disease

The higher the level – the greater the oxidative stress within the thyroid gland

Raised levels in the absence of other pathology markers suggest increased risk of thyroid disease in future

Thyroglobulin antibody (TgAb)

Considered much less specific & less sensitive than TPO Abs e.g. Patients with negative TPOAb but some TgAb rarely manifest or progress to thyroid pathology

More specific to detecting autoimmune nodular Goitre in iodine Deficient areas

Monitoring iodine therapy for goitre
HPA STRESS & ALLOSTATIC LOAD
Poor Conversion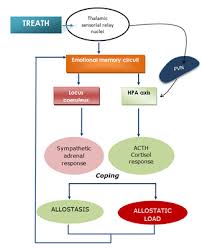 (2)
May have enough co-factors, such as selenium, iodine, may have enough T4, but not converting to T3.
Deficiency in deiodinase enzymes required by the selenium dependent group of deiodinase enzymes. (https://www.ncbi.nlm.nih.gov/pmc/articles/PMC1578599/)
3 different kinds of enzymes –
Type 1
Converts T4 into active T3 in the peripheral tissue, but is reduced by cortisol, high allostatic load. (Allostasis refers to the adaptive processes that maintain homeostasis through the production of mediators such as adrenalin, cortisol and other chemical messengers.) Reduced by inflammation, oxidative stress, yo-yo dieting.
When the thyroid gland is stimulated, the type II deiodinase takes on an increased importance in the conversion of T4 to T3 (Salvatore et al. 1996). Type II deiodinase is unique among the deiodinases in that it appears to contain two selenium atoms, rather than just one.
This in turn causes an upregulation of Type 2 deiodinase that only converts T4 to T3 in the Pituitary gland, which regulates the production of Thyroid Stimulating Hormone (TSH) which can cause low TSH.
The combination of allostatic load, such as excess cortisol, inflammation, oxidative stress and toxicity results in Type 3 deiodinase, which converts T4 into reverse T3, whilst supressing Type I.
What does rT3 tell us?
rT3 is always made during thyroid homogenises in the conversion of T4 as a natural buffer against hyperthyroidism.
rT3 is a mirror image of T3 – can bind T3 receptors but can't evoke a T3 action – 'competitive inhibition'
The more thyroid hormone being produced the greater rT3 levels
rT3 production also increases in certain scenarios:

Typical reference range 140 -540

Healthy rT3:T3 ratio 100:1
Leptin regulates appetite and food intake and stimulates the secretion of hypothalamic hormones, such as TRH.
Genetic predisposition
An association between adipokines and thyroid carcinoma: a meta-analysis of case control studies has noted a correlation between the presence of Adipokines and TNF-α, IL-6 and leptin, where a strong relationship between elevated concentrations (in serum and/or tissue) and thyroid carcinoma was shown. (The adipokines, or adipocytokines are cytokines secreted by adipose tissue. The first adipokine to be discovered was leptin in 1994. Since that time, hundreds of adipokines have been discovered)
Gut & Dysbiosis
20% of T4 to T3 conversion occurs in the Microbiota. Reduce inflammation, restore microbiome and the microbiota, reduce intestinal permeability. Gut is commonly a key source of inflammation due to impaired macro & micro nutrients, vitamin and mineral absorption through disruption of the epithelial interface, such as Iron, Selenium, Iodine, Zinc, Calcium Magnesium, just to name a few. This results in either thyroid hormone synthesis or impaired conversion into active T3.
There are specific probiotics that are useful for the beneficial treatment of dysbiosis and improved T3 conversion. (2, 4)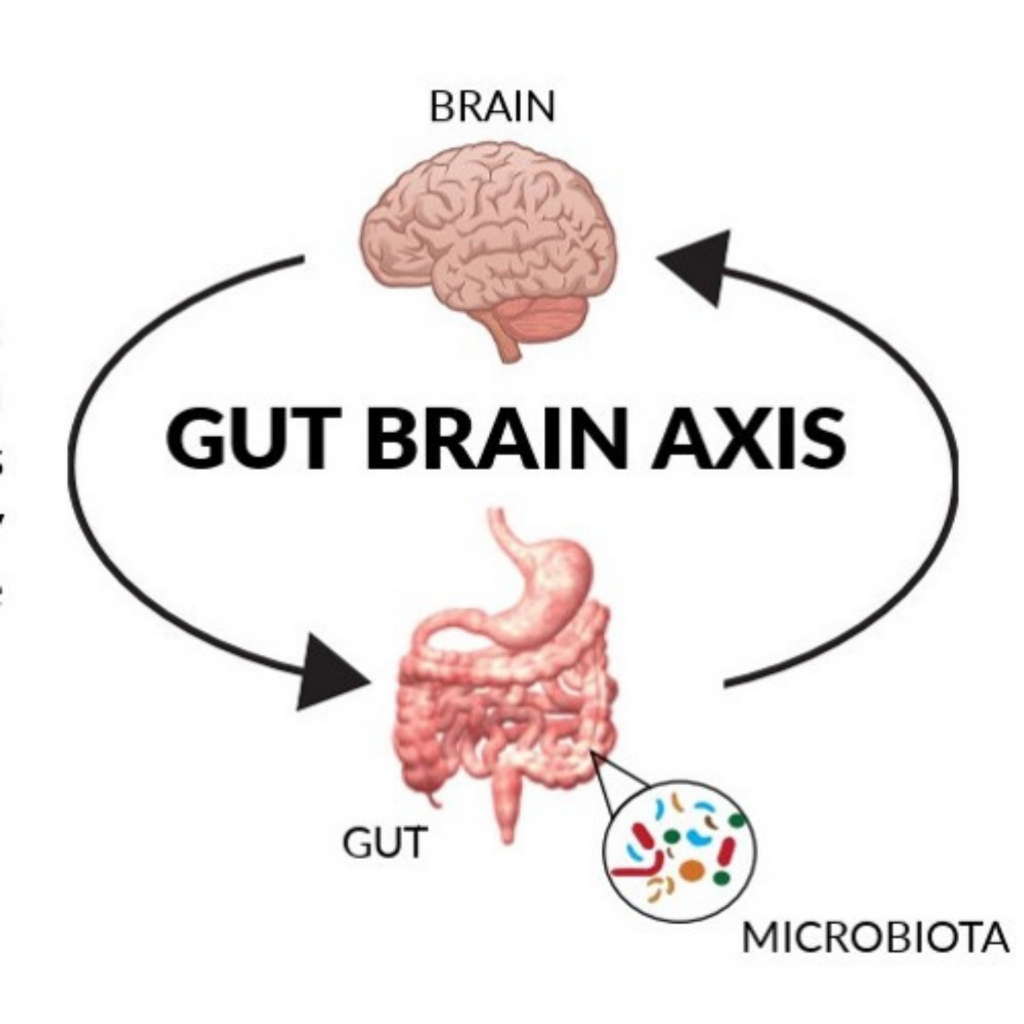 (2)
Chronic metabolic acidosis reduces T3 and T3 conversion, even in the presence of normal TSH. Concentrate on an alkaline diet, 600 grams of fresh vegetables daily, small amounts of protein each meal (30 grams for women), fruit, nuts, seeds and healthy oils.
Essential nutrients for efficient Thyroid function
https://www.ncbi.nlm.nih.gov/pmc/articles/PMC7353203/
Iodine is essential for the synthesis of thyroid hormones. Iodine deficiency can lead to goitre, probably thyroid nodules, and even thyroid cancer. On the other hand, papillary thyroid cancer seems to be more common in areas with high iodine intake, suggesting complex relations between iodine levels and adverse outcomes.
Several compounds, such as thiocyanate and perchlorate re known to compete with iodine, iodine uptake is influenced by numerous substances including humic acids, fluorides, nitrates, ferrous sulfate, sucralfate, and aluminium hydroxide. In addition, soy, phenobarbital, phenytoin, carbamazepine, rifampicin, propranolol, amiodarone, and glucocorticoids interfere with thyroid metabolism and organification of iodide.
Iron is essential for efficient iodine utilisation and thyroid hormone synthesis. Iron deficiency is a common finding in hypothyroidism and is diagnosed in up to 60% of these patients.
Zinc is an essential micronutrient for thyroid function and homeostasis.
Selenium is an essential trace mineral, involved in the immune system and in several thyroid functions. Glutathione peroxidase, deiodinase isoenzymes, and thioredoxin reductase—which protect the thyroid gland from free radicals are representative of human seleno proteins.
The steroid hormone vitamin D is pivotal for calcium and phosphate homeostasis.
Fluctuation of thyroid hormone levels themselves can affect the composition of intestinal microbiota and its amount.
Protein One of the assumptions of the therapeutic diet is a sufficiently high intake of protein, meeting the daily requirement in the state of the disease. In the case of Hashimoto's disease, increasing the intake of whole meal protein from unprocessed products (meat, sea fish, especially fatty fish, eggs) can be helpful in reducing the excessively developed body weight. (4)
Magnesium – magnesium has anti-inflammatory activity, including reducing the level of reactive C protein and the level of antibodies against thyroglobulin. (4)
ELIMINATION NUTRITION IN HASHIMOTO (HT)
Elimination of lactose
A diet targeting the treatment of Hashimoto's disease often requires elimination of dairy products containing lactose. Lactose intolerance is diagnosed in 75.9 % of the patients with HT. (4)
Elimination of gluten
Gluten is a particularly interesting factor because of its association with autoimmune diseases, including Hashimoto. The reasons for this are seen in the occurring cross-reactions between gliadin and thyroid antigens. (4)
Nutritional tips to balance diet in HT. On the basis of the above data and recommendations from a Polish scientific journal for patients with Hashimoto's disease the recommendations are as follows:
Regular consumption of 4–5 (small) meals daily which provide nutrients, the deficits of which are observed in patients:
vitamin D: fatty fish, fish oil, sun-dried mushrooms, Agaricus (and solar bath), chicken eggs;
B group vitamins: meat, fish, chicken eggs,;
vitamin A: kale, carrot, pumpkin, liver, spinach, egg yolk, butter, dried apricot;
Vitamin C: (although not a rich source, it raises the level in blood), black currant, kiwi, strawberry, orange, mango, lemon, melon, kale, spinach, tomatoes, peppers (especially red peppers); vegetables and fruit are basically the main sources;
Vitamin E: avocado, fish oil, whole-grain cereal products, vegetable oils;
Magnesium: cocoa and bitter chocolate, pumpkin seeds, avocado, nuts, whole grain cereal products, some fatty fish (salmon) and green vegetables, yogurt, kefir;
Zinc: cocoa and bitter chocolate, meat, kefir, yogurt, pumpkin seeds, nuts, spinach, mushrooms
Iron: meat, animal offal, cocoa and bitter chocolate (Cacao), spinach, sardines, seafood, pumpkin seeds;
Iodine: iodised salt, fish (cod, tuna) and seafood as well as seaweed, iodized milk and dairy products, if elimination is not required, chicken eggs, plum, especially dried plums, maize.
Selenium: Brazilian walnut, fish (sardines, halibut, salmon, tuna), meat, spinach, liver.
Additional take home pointers
Adjusting the energy value to the individual needs of the patient, as the caloric restriction or low-fat diet may affect the thyroid function.
Preferable sources of fats are: olive oil, avocado oil, avocado, rapeseed oil, walnut oil or walnuts, oily fish and seafood.
Increasing the supply of protein from the recommended 10–15% total dietary energy intake to 15–20%n or even 25%, recommended total dietary energy intake. Oily fish, chicken eggs from organic farming and organic beef meat is good sources of both protein, iodine, iron, zinc and omega-3 acids.
Provision of complex carbohydrates from gf whole grains; Quinoa, Amaranth, Chia Seeds, etc. characterised by a higher nutritional density and dietary fibre.
Increasing the intake of soluble fibre supports intestinal microbiota and can improve defecation and bowel function, which is a common problem in hypothyroidism. Plant based food, such as cocoa, fruit and vegetables, as well as whole-grain gluten free products, are good sources of fibre. (as mentioned above
Taking care of nourishing the microbiota by eating vegetables and fruit, dietary fibre and silage products.
Limiting the consumption of processed products, including sweets, chilled beverages and other sources of sucrose or simple sugars.
The elimination of gluten is not recommended if coeliac disease or other forms of gluten intolerance are not present.
The adoption of a diet that eliminates food allergens when food allergy is diagnosed. (4)
1. Ramos-LevC AM, Marazuela MCn. Pathogenesis of thyroid autoimmune disease: the role of cellular mechanisms. EndocrinologC-a y NutriciC3n (English Edition). 2016;63(8):421-9.
2. Knezevic J, Starchl C, Tmava Berisha A, Amrein K. Thyroid-Gut-Axis: How Does the Microbiota Influence Thyroid Function? Nutrients. 2020;12(6):1769.
3. Bianco AC, Kim BW. Deiodinases: implications of the local control of thyroid hormone action. The Journal of clinical investigation. 2006;116(10):2571-9.
4. Ihnatowicz P, Drywie EM, P WDt, Wojsiat J. The importance of nutritional factors and dietary management of Hashimoto's thyroiditis. Annals of agricultural and environmental medicine : AAEM. 2020;27(2):184-93.